!150Megs.com family profiles> <!File q159biography.html created by Malcolm Smith. Last updated 13/023/19>
Malcolm Smith's Family History Archive
---
Biography of
Sophia COOPER
[Ref. Q.159] <! Top menu>
---
---
<! Main content>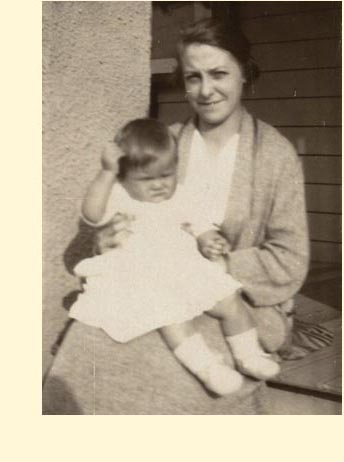 Sophia Cooper was born in about 1878 in Hothfield, Kent, the second child of Charles and Mary Elizabeth Cooper.
The census of 1881 records the family living in Hothfield Street in Hothfield and that her father was employed as an agricultural labourer. They were at the same address ten years later when the 1891 census was taken.
On 3 October 1897, Sophia married Sydney James Smith at Eynsford parish church. Sophia's elder sister Susan signed the marriage certificate as a witness. Sydney's occupation was given as that of labourer on the certificate. He was the eldest son of Thomas and Mary Smith of Eynsford.
The census of 1901 showed the couple as living in the Bakers Shop in Eynesford of which Sophia was the shopkeeper. The shop was only three doors away from Sydney's former home so it is likely he and Sophia had met at her shop. Their daughter Agnes Annie was born at the shop premises on 5 August 1903 and the photograph shows them the following year. According to the word of relatives, Sophia was quite harsh towards her daughter.
The census of 1911 showed the family living in Station Road, Eynsford and Sydneys occupation as that of Basket Maker & Shopkeeper so, by inference, they were still in the shop.
In 1913, the family decided to emigrate to Australia, so on 15 May that year they boarded S.S.Beltana at London and sailed for Sydney. Sydney found work at a tile works in Box Hill and the family's address in 1914 was at Ellingworth Parade, Box Hill, Kooyong in Victoria State. The following year they were listed as being at 200 Station Street in Box Hill. By 1921 they had moved to 3 Alexandra Street, Box Hill, Flinders in Victoria and were still there the following year.
By 1924, Sophia, Sydney and their daughterdaughter were living at 145 Canterbury Road, Box Hill, Flinders, Borodoonbara in Victoria and were still there in 1931. The electoral registers between 1936 and 1954 list the family at 128 Canterbury Road.
It is believed that Sophia and Sydney started The Whitehorse Bus Company in 1927 and had five buses running. They sold it on to their daughter and son-in-law in 1948.
Descendants of Sophia and Sydney decribed them as lovely people who spoiled their great grandchildren with lollies and a coin when they visited. Sydney passed away in 1956 in Melbourne, Australia and Sophia in 1958. <! Bottom menu>
---
---